[REVIEW] HUAWEI MatePad Pro 12.6-inch, New Generation Tablet with Laptop Taste
HUAWEI MatePad Pro 12.6-inch :
Size: Height 184.7 mm, Width 286.5 mm, Depth 6.7 mm
Display: WQXGA 2560 x 1600***, 240 PPI, OLED
Processor: 1 x [email]Cortex-A77@3.13[/email] GHz + 3 x [email] Cortex-A77@2.54[/email] GHz + 4 x [email]Cortex-A55@2.05[/email] GHz, GPU: 22-core Mali-G78, NPU: 1 Big Core NPU + 1 Tiny Core NPU (Neural- network Processing Unit)
Operating System: HarmonyOS 2
Memory: 8GB RAM, 256GB ROM
Camera: 13 MP (f/1.8 aperture, AF) 8 MP (wide-angle length, f/2.4 aperture, FF) 3D Depth Sensing Camera Front Camera: 8 MP Selfie Camera f/2.0 aperture Fixed Focal
Battery: 10050 mAh
Microphones & Speakers: 4 microphones & 8 speakers
Brief Details :
Currently, if you look at the tablet market in the world, maybe only a few brands are actively marketing. And Huawei is still one of the names being talked about. Because they have tablets in every category from entry-level to high-end. Recently, they have launched their latest flagship tablet, the 12.6-inch Huawei MatePad Pro, featuring a large 2K display with the Kirin 9000E chipset ready to respond to any usage.
Video Review :
huawei.com
Design
Huawei MatePad Pro 12.6 comes with a 12.6-inch highlight screen like the model name. The screen area reaches 90 percent with a fairly thin bezel, only 5.6 mm. Apart from the display which delivers 2K (2560 x 1600 pixels) resolution, the front of the machine also features an 8MP front camera on the top edge of the device. For the rear camera itself, what is provided is a dual camera with a resolution of 13MP and 8MP (Ultrawide), as well as a 3D Depth Sensing Camera that can be used to add dimensions to taking pictures.
At the bottom of the machine is a USB-C port that supports charging up to 40W, and on each side, there are 4 Harman/Kardon speakers. Not only that, the top also has 4 more speakers. So, in total there are 8 speakers in the device.
On the right side of the machine itself, there are volume up and down buttons. And on the left side of the machine, there is a slot to insert an NM Memory Card that supports a maximum capacity of 256GB.
The equipment provided in the box, apart from the device, consists of an Adapter supporting 40W power, USB-C to USB-A cable, pin for removing NM Memory Card.
Display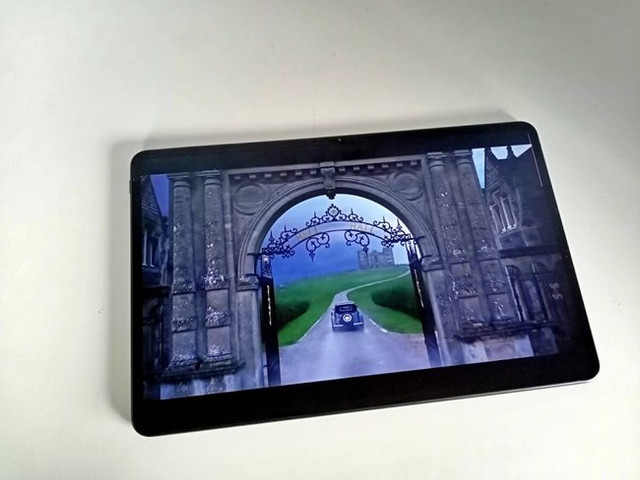 huawei.com
The large screen is the highlight of the 12.6-inch Huawei MatePad Pro. Since this device comes with a HUAWEI FullView Display with 2K resolution, it is possible to get a good viewing experience when used.
In addition, the screen panel uses OLED to make the resulting image look clear and natural by itself. The color coverage reaches 100% DCI-P3, which indirectly ensures that the color details we get are accurate without distortion.
On the other hand, the display also supports the TÜV Rheinland standard. So we can use it longer without having to worry about blue light getting into our eyes.
Speaker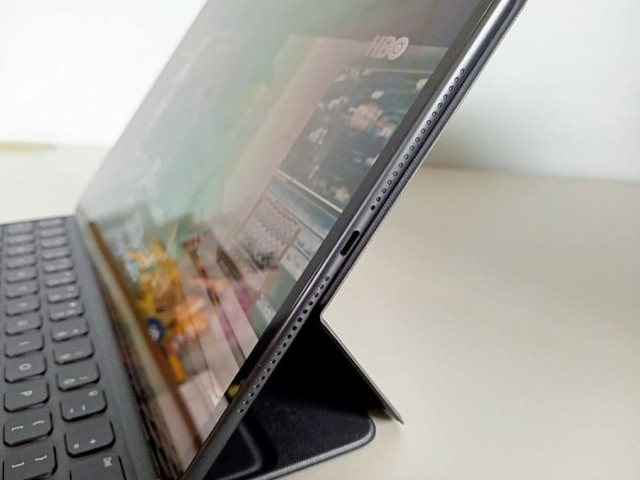 huawei.com
Harman/Kardon speakers have been embedded in Huawei for a long time. However, what I find special about this model is that it comes with up to 8 internal speakers. With this many speakers, the sound covered is even more accurate.
This speaker is very useful when watching movies, we feel as if we are watching in a cinema. Because the sound is loud from left to right, making the listening experience different from other devices.
Performance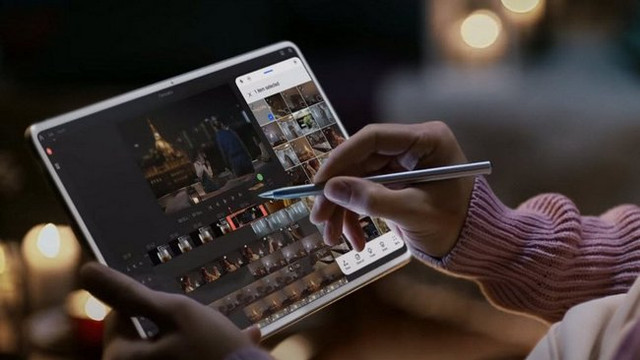 huawei.com
This device uses the Kirin 9000E, a new generation chipset from Huawei. Plus, the Mali-G78 graphics chip, 8GB RAM, and 256GB storage, it makes the games that are played much more relaxed than before.
But what I appreciate here is Huawei's flagship feature called Multi-Windows. This is a feature that allows us to open applications simultaneously (up to 4 applications). There is also an App-Multiplier feature, which allows us to clone one app into two.
Huawei Ecosystem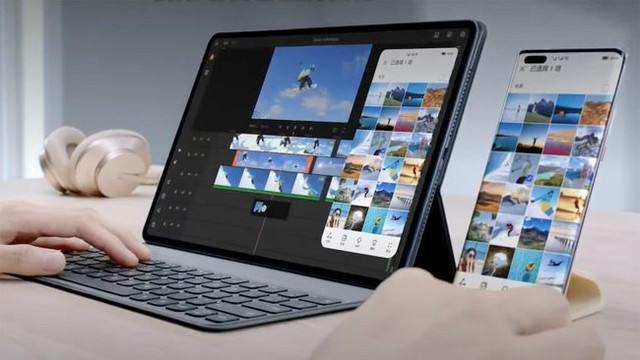 huawei.com
If anyone already owns a Huawei device, be it a smartphone or a notebook, buying the 12.6-inch Huawei MatePad Pro is a very attractive option. Because this device can run all the different features.
I'll start with the 'Huawei Multi-screen Collaboration with a laptop' which will make integration with Huawei notebooks and tablets more liberating for users. Next is Huawei Share, which allows us to send various data more easily to other Huawei devices.
Battery
Quotes: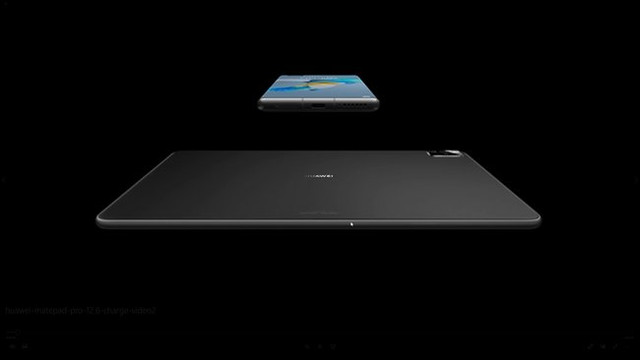 huawei.com
Huawei MatePad Pro 12.6 comes with a 10050mAh battery that can be used continuously for a long time. In general usage tests with Wi-Fi and Bluetooth from morning to evening, battery life was only around 15 percent. It is said that if not under heavy use, playing games all day, the device can definitely last up to several days. For charging itself comes with support for a 40W fast-charging system (only takes 2 hours 10 minutes).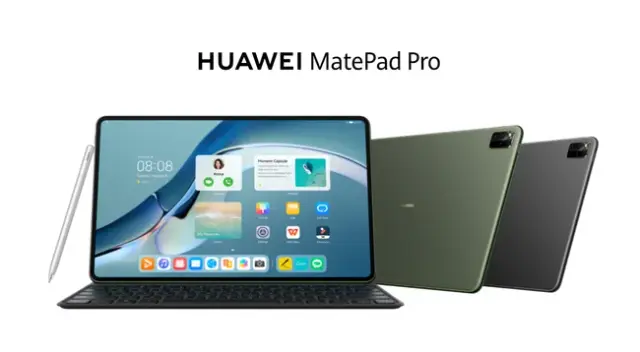 huawei.com
Conclusion
Overall, the HUAWEI MatePad Pro 12.6 is the flagship tablet with outstanding performance right now. If anyone is looking for a tablet that has a built-in finish that can answer all needs, be it study, work, including playing games, this device is the answer.
Pros:
+ 12.6-inch much larger
screen + 2K screen resolution with OLED display
+ Uses the latest Kirin 9000E chipset that responds to all applications
+ 8 Harman/Kardon speakers, a first in the tablet industry
+ Perfectly tuned HarmonyOS 2.0 system, easy to use
+ Has all the features compatible with the Huawei ecosystem
+ The battery lasts for days without recharging.
+ Accessories that work together seamlessly, both Smart Magnetic Keyboard and Huawei M-Pencil
Weaknesses:
- Unable to install GMS on Huawei (Google Mobile Services)
- Prices that reach 13 million, may not be suitable for those who are looking for a special gaming tablet