5 Advantages of Xiaomi Poco X3 Pro From Poco F3!
Xiaomi re-launched the Poco series smartphone at the end of last March, which was named Poco F3. With qualified specifications, of course, Mi fans are increasingly eager to get it.
But something you need to know, 3 days earlier, this Chinese company has also launched a cellphone called Poco X3 pro. The specifications of the X3 pro are considered to have outperformed the F3 in various aspects.
Yes, it is something that is natural when smartphones have their own advantages. However, with the support of a 'similar' kitchen runway, the Poco X3 pro has a lower price than the Poco F3, you know.
In addition to the price, the author has also summarized several other advantages of the Poco X3 pro, here. Anything? Peek at the review below, yes!
1. IPS LCD
Ready to say that IPS LCD is worse than Amoled? Make no mistake, this panel has its own advantages, you know.
The first is because the production cost is much cheaper than Amoled, so it has an impact on reducing production costs. Therefore, cell phones with IPS LCD panels have relatively lower prices.
But wait a minute, the low price doesn't mean that IPS LCD doesn't have advantages, does it.
Indeed, Amoled has a darker color. But the consumption of power is quite large if you use a white background or other bright colors.
Meanwhile, with IPS LCD technology, you are free to use any color wallpaper without fear of consuming excess power.
In addition, if Amoled has deep colors due to its high saturation, the IPS LCD excels in terms of colors that are more natural and true to the original.
And for those of you who are often outdoors, you don't have to worry anymore about the phone screen that sometimes doesn't show up. The X3 screen can be clearly seen even in direct sunlight.
But those things don't make it better than Amoled, do they? At a more expensive price, Amoled has its own advantages, really.
2. Corning gorilla glass 6
The Poco X3 pro and Poco F3 glass protectors both use corning gorilla glass. But the protectors they wear have different versions. Poco X3 is protected with 6th generation Corning Gorilla Glass.
This protective layer that is compatible with the touch screen will protect the glass of the X3 pro with strength twice as strong as the 5th generation installed on the Poco F3. That way, the Poco X3 pro is ahead of the F3 in terms of preventing serious damage to the screen.
3. Dept sensor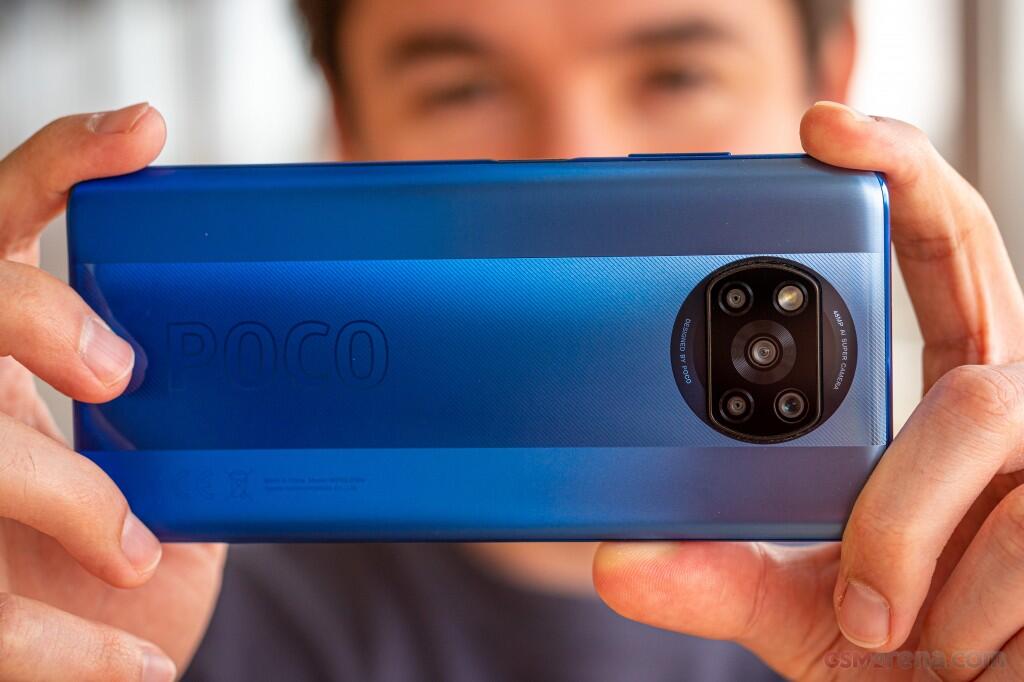 Although it only has a 2MP macro lens (3 numbers smaller than F3), X3 pro is equipped with a dept sensor. With this lens, the Poco X3 pro camera can focus on the object you are photographing.
Not only that, because the object has been focused and identified thanks to this depth sensor, you can freely configure the background to blur.
Unlike the F3, although it is equipped with a 5MP macro lens, the Poco F3 does not have a sensor dept on its camera.
4. 5160 mAh battery
Who is always annoyed if the phone's power runs out quickly? You won't experience it if you use Poco X3 pro, here. How come? If the F3 is only equipped with 4520 mAh, the X3 pro actually exceeds it in terms of power capacity, which is 5160 mAh.
With a difference of 600 mAh, the Poco X3 pro can last a little longer than the Poco F3.
Moreover, X3 is equipped with fast charging which can charge smartphones quickly, which is 100% in 59 minutes. Although the charging speed is 7 minutes slower than F3, though.
5. The price is cheaper than Poco F3
Finally, the thing we have been waiting for has arrived. Yes, what's the happiest thing, apart from knowing the low price.
To be able to bring home the Poco F3, you have to spend 349 USD, or around IDR 5 million. As for the Poco X3 pro which is the subject of discussion in this article, the price is 249 USD, or around Rp. 3.6 million only.
How are you? After listening to the explanation about the advantages of X3 pro, which smartphone do you put your heart to? A moment, yes. With the mention of some of the advantages of the Poco X3 pro above, it's not necessarily that F3 is much worse than X3, yes.
With a more expensive price, of course, the Poco F3 has its own advantages, really. Among them are 5G Network, Amoled Panel, a superior chipset model (Snapdragon 870), and faster fast Charging.
Source:
gsmarena